Tapas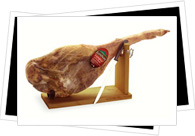 Interestingly enough, Sevilla is known for its mind-blowing quantity of two things – churches and tapas bars – both of which are found on nearly every street corner. As the rumored founding city of tapas, the variety and practice of what has come to be a widespread Spanish gastronomic artform has rather humble beginnings. In an effort to keep the flies out of their customers' drinks, bartenders would cover, or tapar, the glasses with a small saucer. Little by little, bartenders began to put small, simple sandwiches on these saucers as a little snack with each drink. Nowadays, as any visitor to Spain can tell you, this phenomenon including anything from meatballs to olives has evolved into one of Spain's most treasured traditions.
So, when in Sevilla do as the Sevillanos do. Instead of committing to a full, sit-down meal, going from bar to bar de tapeo with a group of friends is hands down the best way to sample the huge variety of the city's specialties. Definitely try some of the following highlights of the Sevillano tapas scene and be sure to wash them down with a sherry or cold beer.
-Caracoles (snails)
-Rabo de toro (bull's tail)
-Chanquetes (tiny fried fish)
-Revueltos (scrambled egg dishes)
-Tortilla española (Spanish omelette, made with eggs, potatoes, and olive oil)
-Jamón (cured ham, normally served on small pieces of bread)
-Puntillitas fritas (tiny fried baby squid)
-Espinacas con garbanzos (spinach with chick peas)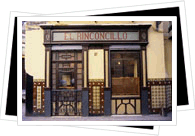 Tapas Bars
For the best of Sevilla's authentic tapas, check out the bars in Plaza Alfalfa, throughout Triana, and, if you don't mind the slightly higher prices, the Barrio Santa Cruz also has tons of tapas bars tucked into its streets. One place that you should stop into, if only for history's sake, is the Rinconcillo; founded in 1670, it might have city-wide fame for being the oldest bar in Sevilla but its prices for fantastic tapas remain low. Spread throughout Sevilla, Bodega Santa Cruz, Cafe-Bar Lévies, Las Golondrinas, Bar Blanca Paloma and Mariscos Emilio are also guaranteed to give you the proper tapas training.
Rinconcillo
c/Gerona, 40
Bodega Santa Cruz
c/ Rodrigo Caro, 1
Café-Bar Lévies
c/ Levies
Las Golondrinas
c/ Antillano Compos, 26
Bar Blanca Paloma
c/ Pagés del Corro, 86
Mariscos Emilio
c/ Génova, 1