You can't leave Southern Spain without seeing Córdoba's breathtaking Mosque-Cathedral, the structure most symbolic of Spain's diverse cultural history. The site was originally home to a Visigoth church. Later, when the Muslims gained control of the city, they demolished the church and replaced it in 785 A.D. with what would expand over the centuries to become an absolutely enormous and magnificently embellished mosque. In fact, you'll quickly discover just how huge it is when you see that following the Spanish monarchy's reclaiming of the city, a full-blown cathedral was constructed right smack in the middle of the Muslim prayer space.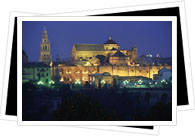 After meandering through the Mosque's sea of columns and candy-cane striped arches, admiring the exquisite gold mosaic decorating its sacred mihrab, and finally taking in the impressive heights, altarpieces, and choir of the 16th century cathedral, experience another culture's old stomping grounds in the nearby judería. You'll quickly fall in love with the flower-filled patios, wrought-iron gates, and white-washed houses tucked into this old Jewish quarter's maze of narrow streets and alleys.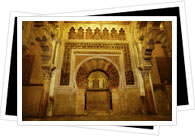 An inexpensive bus ride out of the Estación del Prado de San Sebastián will get you to Córdoba in under two hours. If you'd rather travel by rail, AVE (45 minute ride) and regular (90 minute ride) trains leave frequently from the Estación de Santa Justa.