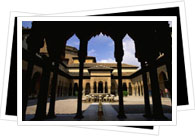 As the poet Francisco Alarcón de Icaza once very wisely observed, there is nothing else in life like the pain of being blind in Granada. With visual treasures and intense beauty around every corner, you'll quickly see why Granada is such a Spanish jewel.
Put aside at least a few hours to hike up to the hills overlooking Granada and lose yourself in the world famous Alhambra and Generalife. Revel in the stunning architecture, rows of elegant arches, ornately carved decoration, and peaceful, bubbling fountains – a sure sign of Moorish architecture – that grace the sprawling fortess-palace's labyrinth of rooms and intimate courtyards. Afterwards, be sure to spend some time exploring the vast gardens of the Generalife.
Another key stop is the immense late Gothic-style Renaissance Cathedral, where you can also check out the ornate tombs of famed Catholic monarchs Fernando and Isabel who chose Granada as their final resting place.
Finally, take a long walk through the unique districts of Albaicín and Sacromonte. Granada's former Islamic quarter, el Albaicín, is filled with winding narrow streets, picturesque courtyards, intimate gardens, and the light aroma of jasmine, all traces of its Muslim past. The truly unique Sacromonte, directly facing the Alhambra, is a whole district of Granada that consists of (still used!) cave dwellings originally dug into the hill centuries ago by gypsies and post-conquista ethnic refugees.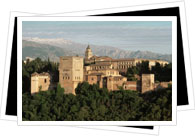 To get to Granada, your options are unlimited. You could always look for a cheap flight, otherwise there are trains and buses that contantly operate between these two major Andalucían cities. For train tickets, head over to the Estación de Santa Justa. Otherwise, check out the bus schedule at the Estación del Prado de San Sebastián.