What to Expect:
From cheap hostel rooms to luxury suites, from ultra-modern to quaint and traditional and from a hotel for a night to an apartment for a month, your accommodation options in Sevilla are infinite and varied.
A couple of tips on Sevilla hotels:
Travelling with others is usually a good way to save money, as a single room can be surprisingly expensive. Also, if you're travelling to Sevilla in the spring for its spectacular Semana Santa or Feria de Abril festivals, prices sky-rocket and vacant rooms become few and far between. So, plan well ahead of your trip and be prepared for prices of hostels, hotels and apartments to double or even triple.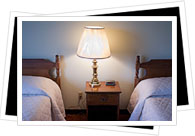 Many Sevilla hotels and even hostels include a continental breakfast of pastries, coffee and juice. However, in the event that your hotel does not include a morning meal, worry not. There's sure to be a café- or a few- within just a few steps of your hotel.