Intro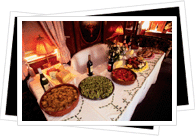 As is the case with the diverse architecture gracing Sevilla's streets and plazas, its gastronomy has also been influenced by its proximity to both the Mediterranean and the Atlantic, its historical ties to Muslim culture, and its association with the discovery of the Americas. Homemade dishes, whose recipes have endured generations, compose the base of Sevillian and Spanish gastronomy. However, to really get a taste of Sevilla'sspecialties, the best way to go is bar-hopping and trying various locales' tapas.
Spanish food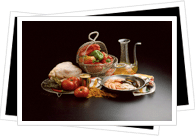 Being the top producer of olive oil in the world, it's only natural that this typically Mediterranean product plays a significant role in the Spanish diet. Add that to the cured hams from the nearby sierras and a whole lot of seafood brought in from neighboring Mediterranean and Atlantic towns and you've got an idea of Sevilla's gastronomical treasures. Other dishes include huevos a la flamenca (eggs with tomato sauce), gazpacho (cold, vegetable-based soup), rabo de toro (bull's tail), and pescaíto frito (fried fish).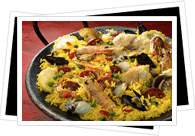 Still embracing traditions and recipes dating as far back as the Medieval ages, several of Sevilla's long-running enclosed convents continue turning out a variety of hand-made from scratch pastries. Look for yemas (sweets made from egg yolk and sugar), mermeladas caseras (homemade marmelades), rosquillas rellenas de cidra (cider pastries), and rosquitos (various pastries) from any of the following convents in Sevilla:
-San Leandro
-Santa Paula
-Santa Clara
-San Clemente
-Santa Inés
Spanish drink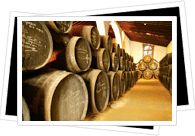 Spain definitely embraces the coffee culture. For a quick caffeine boost, order a deliciously strong, fresh, and steaming café con leche (coffee with milk) or café solo (without milk). Taking social breaks during the work day or a meeting up for leisurely cups on weekends, Spaniards are often known to drink several each day.
Within the province of Sevilla you can find the small city of Jerez, whose surroundings boast the production of the world's supply of genuine sherry. The various forms of jerez (literally meaning sherry) are typical drinks in Sevilla, especially when washing down scrumptious tapas.
Sangría, a refreshing drink especially during the scorching summer months, is a favorite amongst locals and tourists alike. Order a glass or a pitcher of this delicious drink made with red wine, chopped up fruit, and usually a splash or two of other alcohols. A local sangría spin-off that you'll find equally mouthwatering is tinto de verano which combines red wine and lemonade.