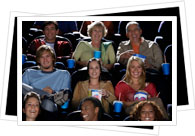 Everyone has those days when going out to a movie just seems way more appealing than a crazy night spent bar-hopping and dancing with the vivacious
sevillanos
. Whether you're in the mood for a blockbuster horror film or a low budget indie-flick, Sevilla offers up a myriad of movie-viewing locales.
For your typical blockbuster movies in theaters with great technology and stadium seating, head to Warner Lusomundo, El Mirador, or the best movie theater in Sevilla, Cines Nervión Plaza. For a less conventional experience, make your way to the older Alameda Multicines or to Cervantes, a small one-room, one-screen theater which maintains its charm from its days as a theatrical venue.
If you like to see German movies in German, French movies in French, and American movies in English (accompanied by Spanish subtitles, of course), Avenida 5 Cines offers up the latest blockbuster feature films while you can check out lesser-known independent flicks at the Cines Corona Center in Triana.
El Mirador
Avda. Kansas City s/n
Aljarafe
Parque Comercial Aljarafe s/n
Calle San Juan de Aznalfarache
Alameda
Alameda de Hércules 9
Alcampo
Ronda del Tamarguillo s/n
Arcos
Avda. de Andalucía
Avenida 5 Cines (V.O)
Calle Marqués de Paradas 15
Cervantes
Calle Amor de Dios 33
Corona Center (V.O)
Calle Paraíso
Nervión
Nervión Plaza and Centro Comercial
Warner Lusomundo
Centro Comerical Plaza de Armas
Plaza de la Legión