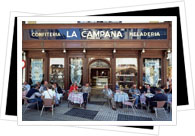 Morning, night and in between, Sevilla basks in its thriving café culture. Whether you're looking for a pleasant place to read, an intimate setting for a chat with friends, or simply a warm atmosphere for a quick energy-boosting "café con leche," Sevilla has literally hundreds of cafés. In addition, many cafés have a selection of pastries, sandwiches, tapas and ice cream, and the majority also serve alcoholic beverages.
While you'll have no problems picking out a café from the hundreds in Sevilla, here's a few well-known favorites:
Bar-Café Europa
c/ Siete Revuela, 35
Tlf: 954 22 13 54
Founded in 1925, Café Europa is a classic café and bar with great coffee, an enjoyable terrace and an enchanting atmosphere.
Café de la Prensa
c/ Betis, 8
With old newspaper pages plastered to the walls, this laid-back café is a city favorite. People come here to simply chill out, sip on a coffee, and play cards or board games. An awesome atmosphere, great coffee and drinks and delicious cheesecake are just a few of its high points.
La Campana
c/ Sierpes, 1
One glance through the cake and pastry-filled window of Sevilla's most celebrated sweet shop and you'll already be in the door. Situated in the heart of Sevilla's major shopping district, a stop here is a great way to cap off a day of indulgence!
Café Moderniste
c/ Dos de Mayo, 28
Another of Sevilla's wonderful cafés bursting with atmosphere, Café Moderniste is both classy and artsy. With elegant candles illuminating the tables, paintings of early 20th century decorating its walls and an elegant atmosphere, stepping through the doors is like stepping back in time to the Sevilla of the 1920's and 1930's.
Alhucema
c/ Carlos Cañal, 20
Making its home on the bottom floor of an old house is Alhucema, an adorable little café with a quaint, delightful atmosphere.