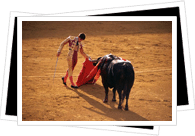 With the discovery of America and the subsequent commerce with the colonies there, El Arenal was home to one of most important ports in the world, especially during the 16th and 17th centuries. Long ago and full of sailors, merchants, soldiers, monks and beggars, it was an area of Sevilla full of the typical port-side activity. Today, it is home of operas, theaters, and two of Sevilla's passions: bullfighting and religious devotion.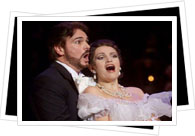 To get a taste of the fantastic Sevilla culture offerings check out the schedule of the immense Maestranza Theater, constructed for the 1992 Exposition. With a calendar jam-packed with Sevilla Symphonic Orchestra concerts, famous operas, and a variety of dance and music festivals, the theater is a veritable must-see, must-do, and must-experience. Also check out La Fundición, where smaller acts like monologues, comedians, and dramas make their home in a cosy atmosphere.
To answer all your bullfighting questions, to see those shiny outfits that the toreros sport, or to check out antique bullfighting memorabilia, take a tour of the bullring and the accompanying visit to the Museo Taurino, the Maestranza's museum. Another great little museum is the Museo Naval, housed within the Torre del Oro. Discover Sevilla's historic naval importance through a variety of objects including anchors, flags, and 16th century navigation maps and instruments.
Where to experience Sevilla culture in El Arenal:
Museums
-Museo Taurino (Bullfight Museum)
-Museo Naval (Naval Museum)
Theaters
-Teatro de la Maestranza (Maestranza Theater)
-La Fundición
Movie Theaters
-Warner Lusamundo
-Avenida 5 Cines (original version)
Flamenco Venues
-El Arenal
Festivals
-International Festival of Movie Soundtracks; May- Maestranza Theater
-Itálica Dance Festival; July & August- Maestranza Theater
-Jazz Festival; February and March- Maestranza Theater
-Spring Festival; June- Plaza de Toros