Highlights
- TORRE DEL ORO
- REALES ATARAZANAS (Royal Shipyards)
- PLAZA DE TOROS DE LA REAL MAESTRANZA (Maestranza Bullring)
- HOSPITAL DE LA CARIDAD
A great spot to start out on your tour of El Arenal is the 13th century Torre del Oro. Nestled into the eastern bank of the Guadalquivir River, the once gold-plated tower once composed part the massive wall built to protect Sevilla and its assets. Inside, you'll find the delightful Naval Museum, featuring an array of fascinating artifacts from Sevilla's colorful naval past.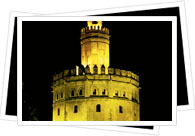 Check out the lasting evidence of El Arenal's characteristic port atmosphere of years past at the Reales Atarazanas (Royal Shipyards). Sevillanos will tell you that their Maestranza bullring is the most beautiful bullfighting venue in the world- and they're not wrong. Atmospheric, elegant, and facing the Triana district on the other side of the Guadalquivir River, it's the ideal place to take in a genuine bullfight. Right next door you'll find the enormous Teatro de la Maestranza (Maestranza Theater), which composes part of the construction project for the 1992 Exposition and is home to wealth of performances.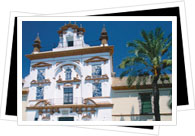 Just behind the Teatro de la Maestranza, you'll happen upon the tiled façade of the Hospital de la Caridad. The hospital, which continues to serve as a hospice for the elderly, is a stunning example of Sevilla's brilliant Baroque period. Don't miss the opportunity to visit its immaculatey adorned church, which boasts golden alterpieces, magnificent sculptures by Pedro Roldán and some of the incredible paintings by artists like Murillo and Valdés Leal.