Highlights
- IGLESIA DE SANTA ANA
- CERÁMICA SANTA ANA
- CAPILLA DE MARINEROS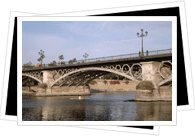 Crossing Sevilla's landmark Triana Bridge leads you from the eastern bank of the Guadalquivir to the lively Triana neighborhood. Head straight into this earthy barrio distanced from the constant touristic ado for a no-frills, genuine Sevilla atmosphere that simply bursts with personality.
The district, in true Sevilla fashion, boasts tons of small churches dating back centuries. Since you can't visit them all, the two Triana chapels you should be sure to check out are the 8th century Santa Ana church, Sevilla's oldest church, and the tiny Capilla de los Marineros, home to the Virgen de la Esperanza, one of the most important Virgins of the Semana Santa processions.
While you can buy great Spanish ceramics throughout Sevilla, you can find the most genuine assortment and for the best prices here in Triana- it's only natural, as ceramics have long formed a major part of Triana tradition. Pay a visit to the Cerámica Santa Ana, the oldest functioning ceramics factory in Sevilla, for a beautiful array of bowls, vases, and even ashtrays. Good luck choosing though- you'll want to buy it all!