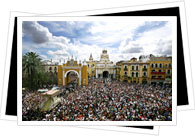 When:
The processions, the art, the drama and the music carry on for the duration of Holy Week.
Where:
The entire city serves as a stage for the Semana Santa. You can see all the action along Carrera Oficial (Official Route), which runs between Plaza de la Campana and the Cathedral, but you have to buy seats ahead of time.
Run Down:
One of the two celebrations practically synonymous with Sevilla is its spectacular Semana Santa (Holy Week), lasting from Palm Sunday until Easter Sunday. People from near and far, music, processions, and juxtaposing sentiments of solemnity and celebration saturate the normally tranquil atmosphere of Sevilla's winding, cobbled streets.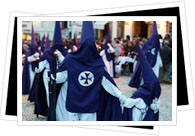 The centuries-old tradition showcases the efforts of each of Sevilla's more than fifty cofradías (brotherhoods), some of which go back as far as a century and a half before America was even discovered. Each cofradía´s processional entourage includes hooded penitents- don't worry, the resemblance of those pointed hoods and long robes to those of the Ku Klux Klan is disconcerting but unrelated - and enormous ornate floats topped with images of the Virgin or of scenes from Christ's Passion. Thirty to forty hidden men, called costaleros, haul these massive floats upon their shoulders and uniformly move in time to the goosebump-inducing music of trumpets, coronets, and drums.
While Semana Santa sparks celebrations throughout Spain, Sevilla's interpretation is world-famous for a reason. So, if you find yourself in Spain during Holy Week, this sensational religious display is calling your name.