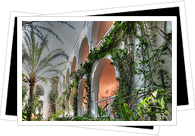 Short-term apartment rentals in Sevilla are becoming more and more popular amongst tourists. Whether it be for a few days or a few weeks, consider the option of spreading out and settling in to your own fully-equipped apartment. You can cook your own food, do your own laundry and hey- you don't have to feel like you're living out of a suitcase! Prices tend to be comparable to those of a mid-range hotel, although depending on the time of year those prices can fluctuate- especially around Semana Santa (Holy Week) and the Feria de Abril!
If you're looking to rent a Sevilla apartment for an extended period, take the time to search for the right place. After all, it's going to be your temporary home! Spending a couple nights in a hotel or hostel while you compare roommates, locations and prices isn't such a bad thing- in the long run you'll be happy you did!
A single room in a shared apartment in Sevilla's center typically ranges anywhere from €200-€300. Also figure about €30-€50 in extra expenses (gas, electricity, etc.) unless the ad says "gastos incluidos." The price of a single person apartment will be signficantely higher, but is of course an option.
To get yourself started on the apartment search, acquaint yourself with the websites www.loquo.com and www.roommates-sevilla.com. These sites let you search for all sorts of apartments and options: short-term, long-term, shared, individual, etc.
To figure out where in Sevilla you want to call home- be it in the bustling centro or in down-to-earth Triana- check out our Sevilla city guide, which provides all sorts of information for each of Sevilla's distinct districts.