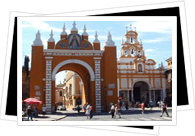 La Macarena was and still is a typical Sevillano neighborhood that maintains a down-to-earth, genuine atmosphere. This barrio boasts genuine bars and cafés that cater to the locals and therefore provide great place to soak up the true Sevillano culture. Another great aspect of La Macarena, as with the rest of Sevilla, is its delightful jumble of architecture, evidence of the various cultures of Sevilla's past. A walk through the district will stun you as you stroll by Mudéjar-style noble palaces, quaint churches, stunning monasteries and convents, baroque façades, and of course the ancient wall that once surrounded the city dating back to Arab times. Add that to lively fresh food markets and authentic tapas bars, and you've got the culture-packed La Macarena.
For a truly one-of-a-kind museum experience, visit the Museo de Muñecas y Juguetes Antiguos (Antique Doll and Toy Museum), for a fascinating glimpse at the toys, board games, and dolls that entertained children long ago. A unique way to watch a movie is at the Cervantes Cine, a one-time theater- as in theatrical plays- that is now an atmospheric, single-screen movie theater.
If you're in the area, be sure to swing by the Rinconcillo, a lively bar bursting with Sevillano spirt and delicious tapas- plus, it just happens to be the oldest restaurant in Sevilla!
Where to experience Sevilla culture in La Macarena:

Museums
-Museo de Muñecas y Juguetes Antiguos
Theaters
-Teatro Municipal Alameda
Movie Theaters
-Alameda Multicines
-Cervantes Cine
Flamenco Venues
-Sol Café Cantante
Festivals
-Puppets and Marionettes Festival; May- Teatro Municipal Alameda