Highlights
- BASÍLICA DE LA MACARENA
- HOSPITAL DE LAS CINCO LLAGAS / PARLAMENTO
- MURALLAS DEL CASCO ANTIGUO (OLD CITY WALLS)
- IGLESIA DE SANTA MARINA
- CONVENTO DE SANTA PAULA
-PALACIO DE LAS DUEÑAS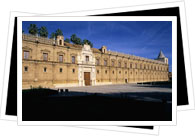 La Macarena, while chock-full of things to do and see, provides a fantastic escape from the touristic commotion of the centro. For a blast to the past, be sure to walk around the best-preserved stretch of the ancient wall that once enclosed and protected Sevilla and its assets, as well as the original Macarena gateway into the city.
Nearby and facing each other are the Hospital de las Cinco Llagas, a beautiful centuries-old hospital that now houses Andalucía's parliament, and the Macarena Basílica, home to the famous Virgen of the Macarena, the patron of bull-fighters and most celebrated figure of the Semana Santa processions. Go inside the Basílica for a small museum glorifying the Virgen and get an idea of just how lavish those Semana Santa floats can be.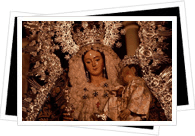 The Macarena is also home to some of the city's most beautiful churches which remain some of the Sevilla's best-kept secrets as they're out of the tourism trail. Check out the churches of Santa Marina and San Marcos, two absolutely stunning examples.