Residential Program in Sevilla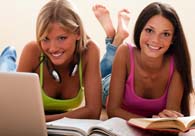 Students who choose the residence option will stay in a modern, three-story hostel just a short walk from the lush María Luisa Park and the Old Quarter of Sevilla.
Participants will reside in double, triple or quadruple rooms, all of them with private bathrooms, small exterior balconies and set around a large central courtyard.
Other residence facilities include: air-conditioning, a TV room, internet access, meeting rooms, towel rental, coin-operated laundry machines, public telephones and a 24-hour reception area.
Full board in the residence from Monday to Sunday
Includes all language classes, evening activities, sports, workshops, excursions, etc.
3 meals/ day
Double, triple or quadruple rooms
Note: in this camp there will be international students ONLY (no Spanish students)
Home Stay Program in Sevilla
Home stay program participants will share a room with another teenager in a family home located within walking distance from the school. The host family will provide the student with 3 meals per day and will enforce the nightly curfew.