The following language classes are offered at our summer camp in Sevilla:
Summer camp classes in Sevilla will take place:
during the mornings, from Monday to Friday
with 4 daily lessons, each lasting 45 minutes
with a maximum of 14 students per class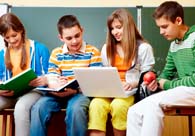 Prior to their first class on the first day of their program, students will take a placement test to ensure their placement in the appropriate course level. Every level, from basic beginner to advanced, is available. Camp participants will then have 4 Spanish classes each morning from Monday to Friday for the duration of their camp stay.
Our team of teaching professionals have conceived, designed and written all academic materials given to summer camp participants. All of our professors have a university degree and have experience working with youngsters of all ages.
While we take language study seriously, we never forget that this is a summer camp. Along with activities, sports and excursions to complement their studies, we always encourage students to have as much fun as possible as they learn.