Sevilla Summer Camp Facilities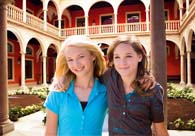 Participants in the Sevilla Summer Camp will attend classes in the heart of the historic Santa Cruz neighborhood, just steps away from major Sevilla attractions like the Alcázar, the Cathedral, the Ayuntamiento (City Hall) and much more... not to mention endless shops, restaurants, pharmacies, etc.
Our school has modern facilities and is set in a building dating back to the early 20th century. Facilities include 12 air-conditioned classrooms, a meeting room, a great roof deck and a multimedia classroom.
Capacity