Teatro Central
Isla de la Cartuja
Avda. José de Gálvez, s/n
Tlf: 955 03 72 00
Like the Maestranza, the Teatro Central was constructed as part of the Expo '92. Head to the La Cartuja district of Sevilla to catch vanguard theatrical and musical performances ranging from classical and contemporary theater down to jazz, rock, and flamenco.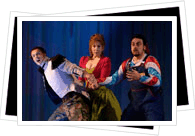 Sala La Imperdible
c/ San Antonio de Padua, 9
Tlf: 954 38 82 19
To delve into Sevilla's world of independent theater, Sala La Imperdible is constantly receiving theater, dance, and music troupes from both the national and international spheres. Operating since 1990, the theater takes great pride in its unique fusion of various artforms, incorporating visual arts, poetry, music, writing and more into its performances.