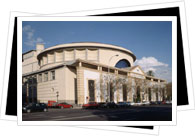 Teatro de la Maestranza (Maestranza Theatre)
Picturesquely located along the Guadalquivir River and next door to the bullring that shares its name, the grand Maestranza theatre puts on a wide range of performances, including opera, zarzuela (a light opera), dance, flamenco, and concerts featuring the Royal Symponic Orchestra of Sevilla.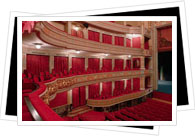 Teatro Lope de Vega (Lope de Vega Theater)
One of Sevilla's most beautiful and historical theatres is the Barroque-inspired Teatro Lope de Vega, located right by the lush Parque de María Luisa and the sprawling University. Built for the 1929 Latin American Exposition as part of the Sevilla pavilion's casino, it now is home to various musical and theatrical performances.