El desayuno - Breakfast
- Before 10am.
- Forget the huge bacon and eggs breakfast! Breakfast in Spain, if eaten at all, is often a single cup of coffee by itself or perhaps accompanied by a little something to nibble on as well. Toast, croissants, or "pan tomaca," a piece of toast with an oil and tomato spread, are popular picks for this Spanish "meal."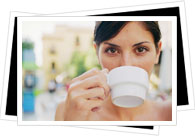 Café - Coffee
-Between 10:30am and noon.
-Spain is, without a doubt, a coffee culture. Combine this with the contagiously social nature of Spaniards and you've got a country where coffee breaks are an integrated part of the workday. After a couple hours of work, it's quite common for coworkers to hit up the nearest café for a few minutes of caffeinated downtime. Don't know what to order? Here's a quick run down...
-Café solo- A simple shot of expresso.
-Café cortado- A shot of expresso with just a splash of milk.
-Café con leche- A shot of expresso and an equal amount of milk.
-Café americano- A shot of expresso and lots of water. Nice and watered down for Americans who find Spanish coffee to be too strong!
La comida - Lunch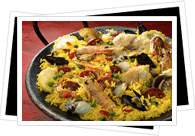 -Between 2pm and 4pm.
-Undoubtedly the main Spanish meal of the day.
-Yes, the infamous siesta time does exist! Stores close down and many people go home to eat the mid-day meal with their families.
-Many restaurants offer their "menús" during the comida. From a set menu, you can choose one appetizer and one main course. These menú deals, which will normally cost between €7.00 and €15.00, almost always also include bread, a drink and dessert.
La merienda - Late afternoon snack
-With dinner being served so late in the day, there's a pretty substantial time gap that stretches between meals. Many people have a light snack, also known as a "tentempié," during the afternoon to hold them over until dinner.
-A small sandwich, a piece of fruit, a pastry, or simply a hot drink are common merienda choices.
La cena - Dinner
-Typically between 9:00 and 10:30 in the evening, although earlier and definitely later are fair game too.
-Most restaurants don't even think of opening up before 8pm. During the summer months and on weekends, dinner time is pushed even later- it's not uncommon to see people dining at midnight!
-Dinner is typically a much lighter fare than lunch, often consisting of something as light as a salad or sandwich.
-The evening hours are the ideal time to check out the tapas scene in Sevilla.
Churros con chocolate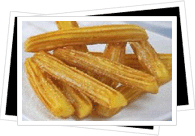 As the partying dies down and the sun comes up, nothing completes a typical Sevillian night de marcha like a fresh serving of churros con chocolate. Churros, slightly crunchy deep-fried pastries, are typically dunked in cupful of thick hot chocolate – the consistency is essentially that of melted chocolate bar. It's a popular breakfast combination, especially after a long night of dancing and drinking copas, and is a must during Sevilla's famous April Fair, the Fería de Abril.