Highlights
- PARQUE DE MARÍA LUISA
- PLAZA DE ESPAÑA
- REAL FÁBRICA DE TABACOS
- HOTEL ALFONSO XIII
- PALACIO DE SAN TELMO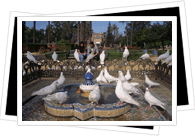 The district of María Luisa celebrates old and new as it features buildings from the 17th through 20th centuries. As you turn left onto Calle de San Fernando during your walk towards the María Luisa park from the Cathedral, the first two buildings you'll come across are the spectacular Hotel Alfonso XIII and the massive University building. Built to house important visitors to the 1929 Latin-American Exposition, the neo-baroque style luxury hotel's interior boasts spectacular tilework and architecture. For those of us- the majority- who don't quite have the bank account to afford to stay a night, revel in the breathtakingly beautiful patio while sipping on a coffee or cocktail.
The neighboring former Royal Tobacco Factory hails from the 18th century during Sevilla's monopolous hold over the tobacco industry. It's the second largest building in Spain and even had its own stables, moat, chapel, prison, and nursery! During its days as the Royal Tobacco Factory, tobacco workers, mainly gypsies like the fictitious Carmen from Bizet's famous opera, worked here rolling cigars on their thighs. During the day you can walk around freely, as it now serves as the city's University of Sevilla's main building.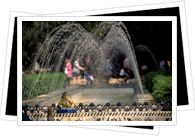 Continue on to the María Luisa park, a lush green haven and perfect place to spend a couple of relaxing hours shaded from that hot Sevilla sunshine. Be sure to find the monument dedicated to Sevillano writer Samuel Bécquer tucked into the trees, then move on to the two museums right inside the park. Across from the park is the immense semi-circle Plaza de España, constructed as the centerpiece of the 1929 Latin-American Exposition. Walk around the plaza and snap some pictures of the fountains, the miniature canal, the majestic stairways and arches, and finally the tiled representations spread across the structure celebrating each of Spain's provinces.