Highlights
- AYUNTAMIENTO (City Hall)
- CASA DE PILATOS (Pilate's House)
- GLESIA DEL SALVADOR (Salvador Church)
- PALACIO DE LEBRIJA (Lebrija Palace)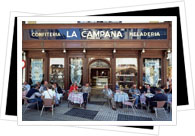 The Plaza de San Francisco is a central spot to begin your tour of the bustling centro. This open plaza is a main point of the city and has seen plenty of action since Islamic times, when it was the scene of a lively marketplace. Making up one whole side of the Plaza is the elaborate Ayuntamiento, or city hall, which is possibly the best display of Renaissance-plateresque architecture in Sevilla.
Straight through the plaza you'll find the pedestrian street Calle Sierpes, full of people, shops, and cafés. This road and the two plazas it unites play center stage to the Sevillano festival of the Corpus Christi and compose a main stretch of the "official" Semana Santa route, meaning that all of the processions have to pass through on their way to the nearby Cathedral. At the top of the street, once you've reached Plaza del Duque de Victoria, you'll find La Campana, the city's most famous pastry shop- one look at the display case and you'll pay a visit!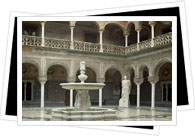 Branching off of Calle Sierpes is a seemingly endless web of streets, which will lead to hidden churches as well as sites like the Palacio de Lebrija. One stop to underline in your itinerary is the Casa de Pilatos, a 16th century noble mansion-palace featuring Roman sculptures, Moorish architecture, and incredible tile-work.