Below you can get a feel for the diverse courses available at Enforex Sevilla.
General Spanish Courses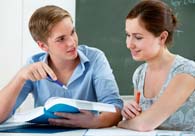 The General Intensive Spanish Course is our most popular program, and for good reason. YOU pick the duration (from one week to a whole year) and intensity (10, 20, 20+5 or 20+5+5 lessons per week) that's most convenient for you, all the while knowing that the teaching methodology and academic materials are the same across the board.
Intensive & Super Intensive Spanish
(1+ weeks)

Long Duration Course
(10+ weeks)
Semester or Year Abroad
(24+ weeks)


Travel & Learn Spanish
(follow course in other Enforex cities- at no extra charge!)

Special Spanish Courses
To meet the special interests of our students, we strive to offer you a wide variety of course options. Whether you're looking for exam preparation, an individualized course of study, programs for special ages and times of year or teacher training, we've got the course for you! You can even put an active spin on your language studies by accompanying them with flamenco lessons!
One on One Lessons
(1, 5, 10, 20, 30+ lessons/week; min. 1 week)

Student Groups
(personalized program)


Christmas Spanish Course
(20 lessons/ week; 1 or 2 weeks)


DELE Exam Preparation
(20 lessons/week; 2 or 4 weeks)


Flamenco/Salsa Lessons
(8 lessons/week; min. 1 week)

Business & Professional Spanish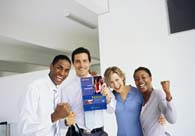 From medicine to international business, Spanish is fast becoming one of the most important languages across numerous sectors of the work force. For this very reason, Enforex Sevilla offers you a wide range of courses geared towards working professionals of all fields. You'll improve your general Spanish skills and, at the same time, acquire the vocabulary and cultural knowledge necessary to feel comfortable speaking and writing about all kinds of professional topics.
Executive One on One Course
(intensity, duration & content up to you!)

Business Spanish Course & Chamber of Commerce Exam
(intensity, duration & content up to you!)

Internship in Sevilla
(optional 20+5 intensive Spanish course; + 8-week internship)


Junior Spanish Programs
Enforex Sevilla's junior programs, geared towards teenagers 13 years old and up, will put youngsters on the fast track towards becoming bilingual. Whether in the Enforex school or in a public or private high school in Sevilla, our junior programs give teenagers a linguistic and cultural experience that is both fun and educational.
Intensive Spanish for Teenagers
(10, 20, 20+5, 20+5+5 lessons/week; 1-10 weeks; ages 14+)

High School Study Abroad Program
(semester or year in Spanish high school; ages 13+)


Sevilla Summer Camp
(ages 14-18)