Shops
The barrio of Santa Cruz is crammed with tourist-geared shops if you're looking to pick up postcards, t-shirts, miniature Giralda replicas, or other souvenirs. In the centro, enter shoppers paradise with a long walk through the pedestrian streets Sierpes, Tetuán, Velázquez, and Cuna. These streets, as well as the seemingly endless web of streets fanning off of them, offer the best of Sevilla's shopping in the way of clothing stores, fun jewelry shops, shoe boutiques and anything else you could possibly desire.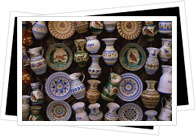 Ceramics
Triana has always been and remains hands down the place to go for genuine, hand-painted ceramics. If you're looking for the beautiful tiles that you see on Sevilla's buildings or perhaps for an intricately decorated bowl, one suggestion is Cerámica Santa Ana, which is actually Sevilla's oldest working working ceramic factory. While you're in the area, you might as well stop by Cerámica Rocio-Triana for a slightly more modern spin on traditional Spanish ceramics.
Malls
If you want to economize your time and find great shopping all in one place, the Nervión offers your typical mall experience. Its various floors are full of all the main Spanish name brands as well as restaurants and Sevilla's best movie theater.