Highlights
- CATEDRAL
- ALCÁZAR
- ARCHIVO DE INDIAS
- HOSPITAL DE LOS VENERABLES SACERDOTES
- PLAZA DOÑA ELVIRA
Of the various barrios of Sevilla, as a visitor you're likely to spend the most time roaming around Santa Cruz. Historic, enchanting, and jammed with things to see, camera-toting tourists flock here in droves to see the winding streets and the wealth of historical landmarks.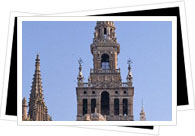 The Cathedral is a great way to introduce yourself to the area. Built upon the area once occupied by the great Muslim mosque, the sheer size of the Gothic Cathedral- it's the biggest in the world- is enough to leave you wide-eyed and gape-mouthed. Definitely take the time to trod up the series of ramps to the top of the Cathedral's massive Giralda- formerly the minaret of Sevilla's mosque. In terms of landmarks, the soaring Giralda is to Sevilla what the Eiffel Tower is to Paris- so be sure to make the climb!
Right next door you'll find the entrance to the sprawling 10th century Alcázar palace and its equally stunning gardens. Architecturally breath-taking, its labyrinth of rooms, halls, patios, and fountains feature the intricate Islamic wood and tile work typical of the Múdejar-style. Be sure to revel in the beauty of its exquisite patios, such as the Patio de las Doncellas and the Patio de las Muñecas- where you can try to find the tiny doll head hidden amongst the intricate plaster-work!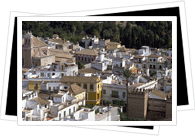 Now head into the web of impossibly tiny streets. To see some of the most beautiful flower-filled patios in the area, find the street Callejón del Agua and simply gaze through the wrought-iron gates. Discretely placed within the web of alleys and just behind the Alcázar you'll find the impressive 17th century Hospital de los Venerables Sacerdotes, a former residence for aging priests. The beautiful baroque structure boasts fantastic patios, columns, artwork, and a delightful church and is not to be missed.